Sustainability has evolved into one of the most talked about topics among business leaders in recent years – and for great reason.
A sustainable business is one that makes a conscious effort to reduce its negative impact on the local or global environment. An organisation that strives to eliminate unnecessary waste, reduce its carbon footprint and implement greener initiatives throughout its operations could be considered sustainable.
In this guide, we'll identify a few key areas where your business can start its journey toward sustainability.
The market demand for sustainable business practices
As the world continues to recognise the ecological importance of sustainability, businesses are beginning to witness a corresponding demand for climate-friendly practices. Many enterprises are already responding to the new market conditions, according to data provided by Forrester. Here's how:
41% of APAC decision-makers have set a carbon neutral date
53% have greenhouse gas (GHG) emissions reduction targets
33% have named a sustainability lead
Why are businesses making this transition? Value-driven consumers are looking for businesses with ethical and sustainable practices. From the hardware they deploy to the consumables those devices require, consumers are conscious of how organisations are using their resources in daily operations.
Sustainable business practices are often more efficient and cost-effective than traditional methods. Climate-minded companies, for example, more easily retain value-driven employees. In turn, lower turnover reduces operating costs and improves productivity.
Focus areas for sustainability in 2022
A successful transition to mature sustainability will require a pivot from reactionary to proactive practices – especially in terms of operational technology. That means optimising everything critical to your day-to-day workflows – hardware and supplies included – and ensuring they're as environmentally friendly as possible.
Forrester created a three-part framework that takes a systematic approach to optimising your workplace for sustainability. Here's how it works:
Procurement
Procurement refers to how your business goes about acquiring its critical assets. This means identifying the optimal hardware for your specific business needs, whether it be printers, multi-function centres (MFCs), scanners or label makers.
Green businesses focus on deploying sustainable technologies and consumables wherever possible throughout the company. Hardware with eco-friendly capabilities, such as optimised power consumption or ink-saving mode, help your workplace cut down on excess energy use and reduce wasted ink. For example, many Brother laser printers, fax machines and MFCs are ENERGY STAR® compliant, meaning they're rated on average to be 25% more energy-efficient than other devices.
Whether it be ink, toner or paper, buying supplies in bulk decreases your replenishment rates, reduces product packaging and saves your business money in the long run.
Operations
Just as it's important to procure sustainable assets, it also matters how you use them. Excess consumption of valuable supplies isn't only costly to the business, it's detrimental to your carbon footprint. Operational sustainability is about optimising processes and reducing waste in two key ways:
Monitoring: It's important to keep a watchful eye over your operations and ensure that your greener technologies are actually being used sustainably. Software solutions, such as PaperCut, allow you to monitor print usage to reduce wasted consumables. With real-time, centralised analytics, you can control costs and enforce print policies, even for remote and hybrid employees
Digitisation: Transitioning from a traditional pen-and-paper recordkeeping system to a paperless digital document management solution is a key green initiative. Not only does scanning documents reduce paper waste, but it also accelerates your journey to mature sustainability. Brother offers many scanning devices than can help you make a seamless transition to paperless productivity
Retirement
End-of-life services are critical to ensuring hardware and consumables are disposed of in an environmentally friendly manner. Cartridge-recycling programs, such as Brother's partnership with Planet Ark, allow you to return empty supplies to the provider to be repurposed.
Likewise, Managed Print Services (MPS) allow you to maintain and prolong the life of your devices – a major benefit to your triple bottom line.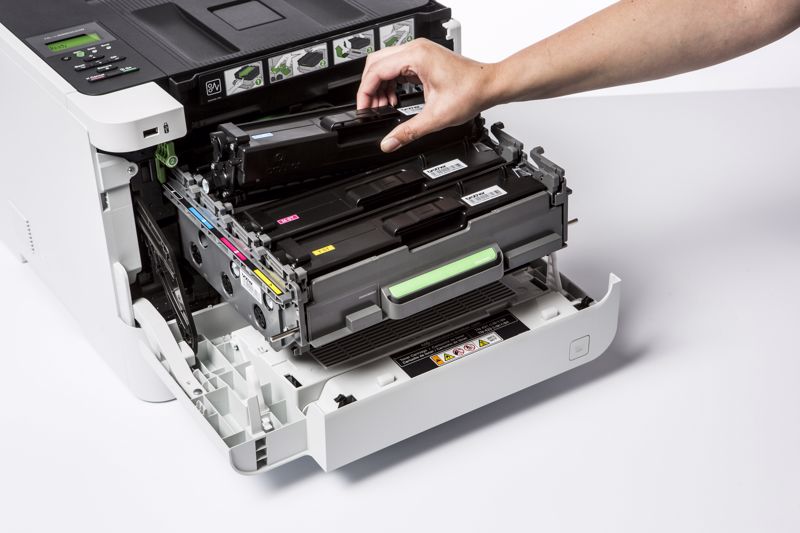 How to achieve a sustainable workplace
Achieving sustainability is no easy task, but focusing on these three areas is a great way to begin. To help you launch your business' transition from reactive to proactive green initiatives, here are a few tips to keep in mind:
Identify your print needs: Determine which documents require physical copies and only print what is necessary. Digitising everything else will greatly reduce waste
Assess your business' workflows: Perform an audit to identify any waste within your day-to-day operations. Once you know where to improve, you can set a goal to reduce that waste over time
Start small – invest in sustainable hardware: Sustainability isn't an overnight transition. It's a long process that requires many steps. The best way to begin is to start procuring sustainable technologies that won't let you down
We're committed to protecting the environment, making a difference and helping businesses like yours drive sustainability across your organisation. Whether it be our environmentally friendly printers, software partners or Managed Print Services, reach out to our team today to learn more about how we can support your business' sustainable future.