You can't underestimate the importance of a well-designed home office. With many of us working from home or needing to work after hours, a stylish home study space is more important than ever.
Whether you're planning to spruce up, redecorate or are starting fresh, you'll love these top home office trends.
Industrial
According to Pinterest, Industrial is the most popular home office décor style for Australians, who've pinned it over 50,000 times. Industrial is all about unpretentious aesthetics and placing utility and ergonomics ahead of all else, which can make for a motivational place in which to work.
Taking cues from old industrial spaces, key elements of this look include metal, exposed brick, sleek concrete and heavy, worn wood. Neutral colours work best here, as too many colours or patterns can create distracting visual clutter, not ideal for a workspace.
If you don't happen to have classic industrial elements like exposed brick and pipes, or you just want to add a flavour of this trend, look to simple industrial-style lighting and open metal shelving.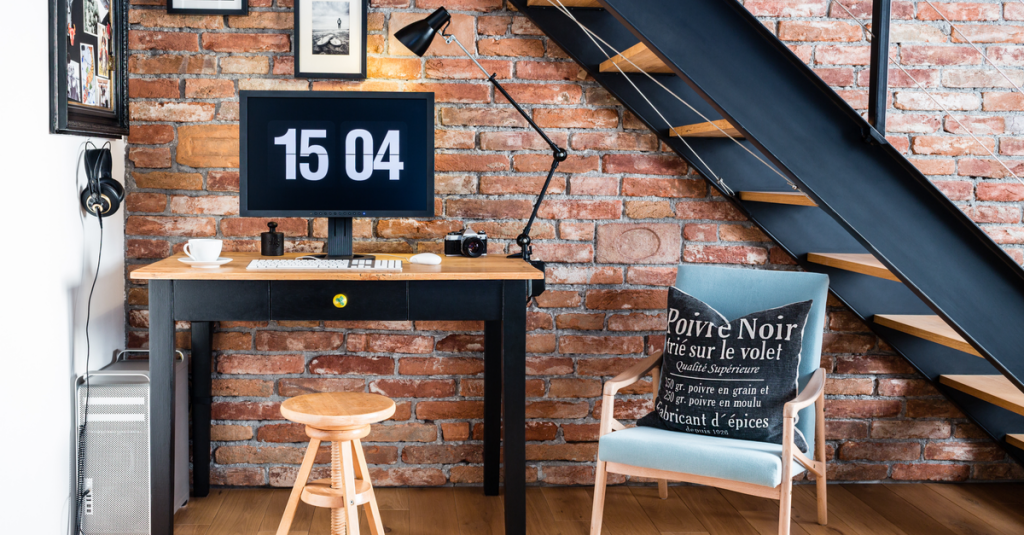 Neutral
Love a bit of beige? Then you can't go wrong with a neutral home office.
To nail the calm and effortless vibe of this trend, stick to a tone-on-tone neutrals palette of beige, taupe and cream, and opt for natural finishes like marble and light timber to create a steady, quiet atmosphere.
This design trend is perfect for the modern home office and makes it easy for you to personalise. Have fun with pops of your favourite colours, eccentric textiles like fuzzy rugs and tactile art and, of course, some house plants to improve your air quality and reduce stress.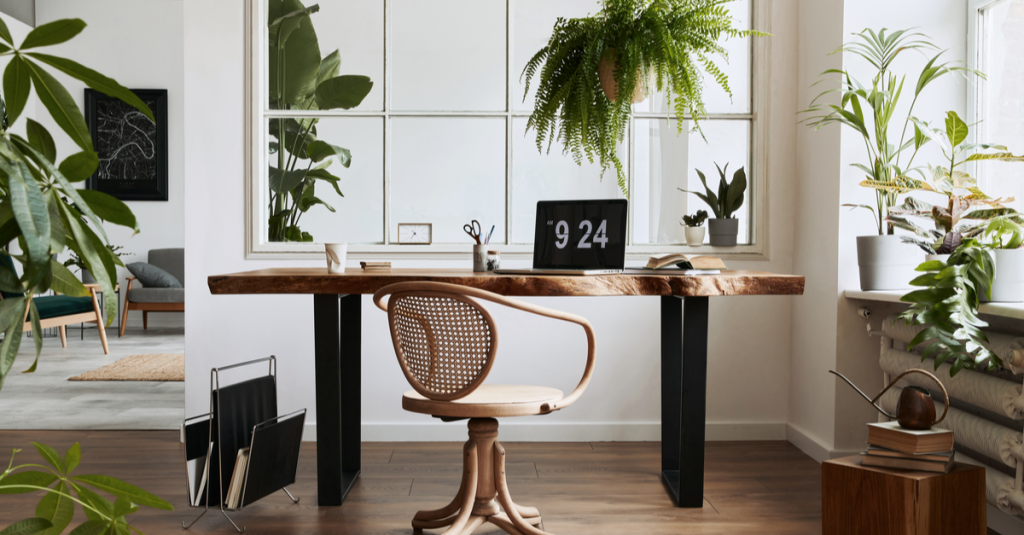 Scandi
One home office trend that's unlikely to go out of fashion is Scandinavian. Casual and elegant, it embraces the principles of calming, eco-friendly design – a great backdrop for efficiency.
More than just IKEA furniture, hallmark traits for Scandinavian design include white walls, wooden floors, minimalist décor and natural light. Once you have these basics down, you can layer personal touches to make it more 'you'. First, select your key pieces, like artwork and rugs, then pick out some colours from these for décor and textiles.
Need help with colour? Signature Scandi shades include greys, forest green, burnt orange, pale blue and dusty pink.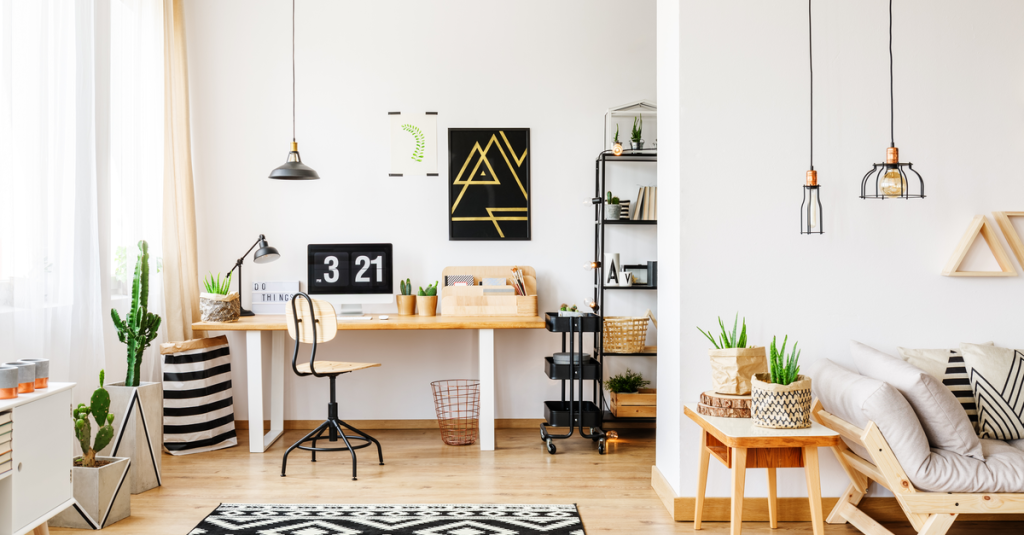 Vintage
Whether you call it vintage, retro, bohemian or rustic, this trend is one for the chic and eccentric at heart.
According to Vogue, home offices with antique pieces, rich timber, leather and subtle lighting make vintage-inspired one of the strongest interior trends. If you want to add an edge, channel a touch of 'grandmillennial' with florals and travel-inspired decor.
The easiest trend to personalise, this look is about comfort and expression – simply let your personality shine through. Just ensure that if you opt for vintage furniture, your desk and chair should pack as much substance as they do style and offer solid ergonomic support. It's also important that both of these are adjustable and cater to an ideal desk height.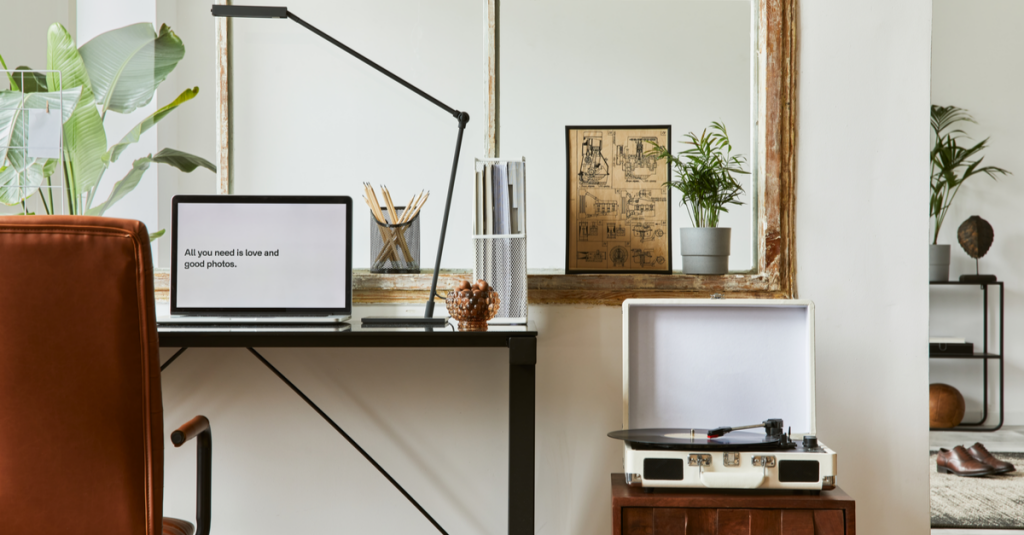 Bringing it together with function
Whatever trend you choose for your home office, to make it a true haven of productivity, you need to think about function.
"Working from home successfully is all about having a practical space that helps you focus," says Dorothy McDonald, Senior Manager, People & Corporate Support at Brother International Australia.
"Considering you'll spend a lot of time here, prioritise what will make you productive and comfortable. A stylish, inviting space is nothing without practical elements like an ergonomic chair and desk as well as having essentials close at hand. When brought together, that's what makes for stress-free and strain-free workdays."
With so many designs to inspire you, it's important to remember that styling your home office is more than upgrading your background for video calls. Tailoring your workspace to meet your style and needs can help to keep you focused, organised and stress-free.
For more advice on setting up your home office, check out our tips on what you need when working from home.