Whether you're a hardcore FIRE (Financial Independence Retire Early) follower and can't wait to reach financial independence, are ready to ditch your day job and make money from your passion projects, or have your sights set on being the next big entrepreneur, a good place to get your dream going is with an at-home side hustle.
Across Australia, side hustles are booming. A 2021 ING report found that 48% of people surveyed had started or were planning on starting a side hustle; while research from graphic design platform Canva found that side-hustlers are among the top 10 biggest earners in the world.
If you're considering joining side hustle Australia, here's what you need to know to set yourself up for success.
Landing your business idea
The first step in starting an at-home side hustle is defining your goals and asking a few critical questions.
Are you looking for a part-time gig to top up your income or do you want to become a full-time business owner? What skills do you have that you could utilise? Do you need capital to get your idea off the ground?
Just as you would when starting any other type of business, think carefully about the commitment involved, what you want to achieve, and what you already enjoy doing.
"Come up with a list of ideas for products or services you can offer," suggests Caitlin Judd, entrepreneurial influencer and co-founder of lady-brains. "From there, you should consider the following questions: Is there a demand for this? How will this add value to my customers? What could I reasonably charge? Is there enough of a demand for me to make a profit?".
Asking these questions will help you identify that all-important gap in the market you are set to fill and establish the viability of your business idea.
It also pays to do basic market research, explains lady-brains co-founder, Anna Mackenzie . "When we have what we think is a great idea for a business, we want to hit the ground running, but it's important that the action we're taking is intentional and we're making progress step by step. It's really important you identify the gap your business will fill.
"To find your niche, start by doing some primary market research, investigate your competitors, and use Google Trends to assess whether there is market demand. If there are already lots of businesses offering the same thing at a competitive price, and you're unable to articulate a clear point of difference you may need to rethink your idea."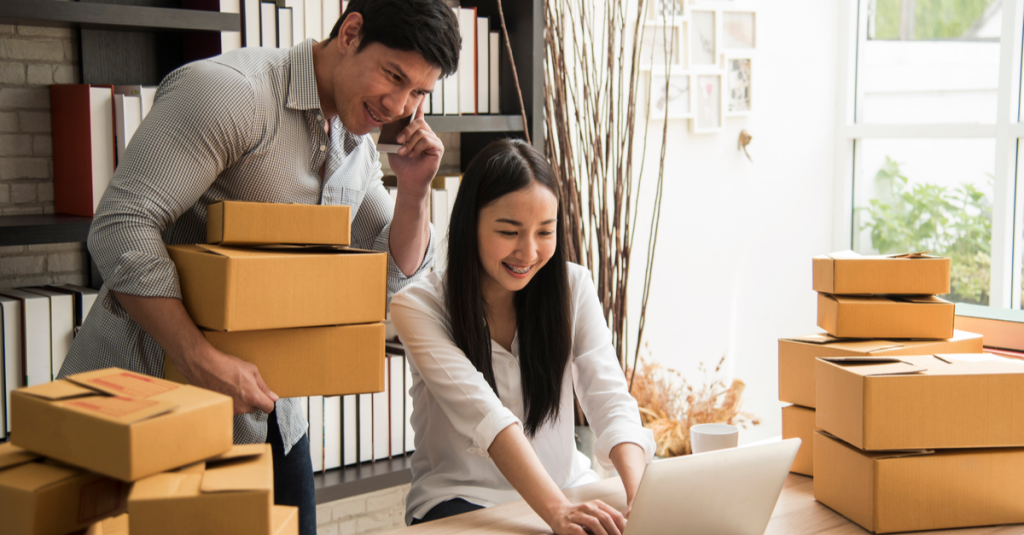 The legal requirements
So, you know you need an ABN and business name, plus you've been in touch with the ATO about tax registration. But, are you across the rest of the legal requirements for running a side hustle?
Depending on the type of business, you may also need to look into business licences or permits, as well as local zoning laws. If you neglect to do this, you could face a hefty fine.
A good resource for finding out more about starting a business in Australia is business.gov.au. This government-run website provides information, services and support to help businesses in Australia, alongside some handy tips.
Find a home-based small business idea that works for you
If you're stuck for a side hustle idea you can do from home that will be viable, excite you and fit your skillset, why not try one of these suggestions?
Dropshipping
Dropshipping is the process of selling products online without needing to purchase goods upfront, hold inventory, or ship orders to customers. Instead, your dropshipping supplier does all of this for you.
Supplier considerations
Finding a quality supplier is key to success here – if your supplier fails at any step, it's your responsibility to make it up to your customer, not theirs.
You'll need a supplier that can offer:
Fast shipping (24–48 hours is the gold standard) quality products
Good customer service
The latest technology to streamline client operations like ordering, handling and shipping
If a supplier is good, then all of this information should be readily available on their site and Google.
How do you find a supplier?
There's no quick way to do this, as you will have to vet a few before you strike gold.
Your first step is to Google search "[Your product] + dropshipper", then choose ones that suit your needs and have good reviews
Once you've chosen your top two or three, you need to vet them. Double-check they have all the credentials listed above, then order samples from them yourself to test quality of service, delivery times, packaging and any other supplier-related questions you may have
Once you've settled on the right supplier for you, all you have to do is set up your store, price your products, and market the business to get started
Tools and tech you need:
You'll need to build a website – your online storefront – that has eCommerce functionality. Using platforms like Shopify or the WooCommerce plug-in for WordPress is an easy way to do this and will help ensure security for you and your customers' financial details.
You'll also need Google Analytics so you can gather insights on customer behaviour, including what products they are purchasing and looking at, or explain why some customers abandon their carts before purchase.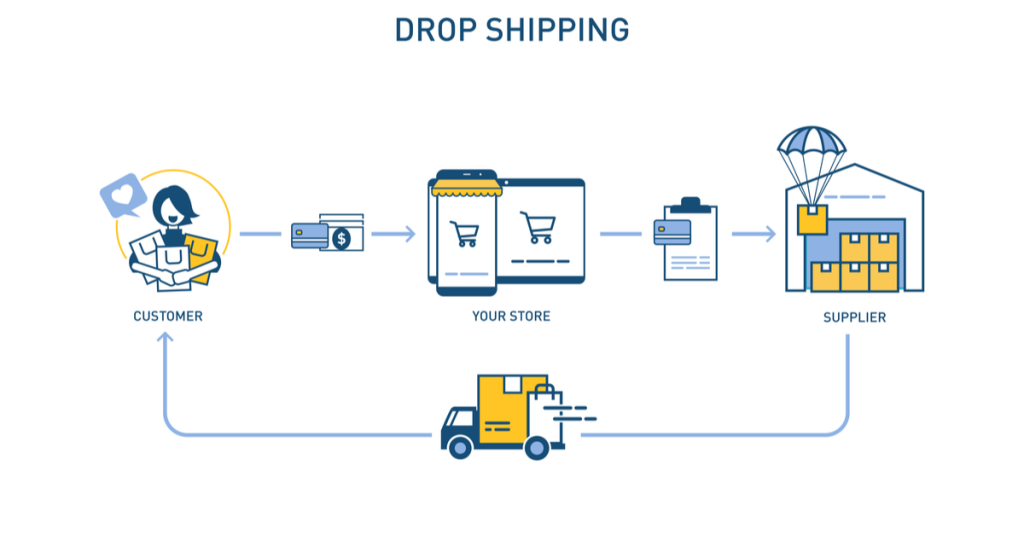 Print-on-demand
Print-on-demand businesses are fun, low-risk ventures if you have a talent for design.
It involves working with a supplier of white-label products (like T-shirts, pillows, tote bags, etc.) to customise those products and sell them on a per-order basis under your own brand – just as does Society6 and Redbubble.
To find a supplier for print-on-demand, you can follow the same process as detailed for dropshipping.
One of the main benefits of starting a print-on-demand side hustle is that it doesn't require you to purchase and store large amounts of inventory upfront. It's also an easy way to get your artistic style and branding out there and make some money from it.
Tools and tech you need:
To create high-quality designs you will need a suitable computer with a large, high-resolution screen so you can see all the detail, as well as software such as Adobe Creative Cloud to generate your designs. When it comes to packing and shipping, a professional label printer such as the Brother QL-1110NWB will be extremely useful in printing shipping labels, especially if you receive a high volume of orders.
Proofreading and editing
If you're a word master and a gun at grammar who can perfect content for different industries, then proofreading and editing could be the side gig for you.
It's also one of the most popular ways of making extra money, too. It came top in Canva's side hustle rankings!
One of the best things about a proofreading and editing side hustle is that it can be done from almost anywhere and doesn't require specialist tools or equipment. However, there are some pitfalls, including tight deadlines, the requirement for absolute accuracy especially for materials to be printed, and the fact that it can take time to build up a steady client base.
Tools and tech you need:
All you need to get started is an internet connection, a computer and word processing software such as Microsoft Word or Google Docs. For those that like to proofread from paper, investing in a printer, like those from the INKvestment range, will also be a wise move to take your writing to the next level.
Video editing
With the increase in video content being served on digital platforms, like the 500 hours of video that are uploaded to YouTube every minute, video-editing skills are in high demand.
There are plenty of avenues for making extra money with a video-editing side hustle. If you're into social media you could create and monetise your own original content (think: YouTube) or help creators with no tech skills spruce up their content. Or, if you'd prefer to charge on a fee basis, you could operate as a freelance video editor and work for different businesses and agencies on a contract basis.
One of the benefits of a video editing side hustle is that you don't need any special qualifications to be hired, that is, as long as your skills are up to par. Other perks include flexible working hours and, with so much variety in video work, it's unlikely two jobs will ever be the same. However, operating as a freelancer does have its downsides, including a lack of employee benefits such as annual leave and superannuation. Plus, income can be uncertain and delayed.
Tools and tech you need:
You'll need to create your own website to display your portfolio or work samples, client testimonials and details on the services you offer. This online presence will also help you build your personal brand, credibility and promote your work. In addition to that, you'll also need an internet connection, a computer that can run video editing software such as Adobe Premiere Pro or Apple iMovie without a hitch, and good people skills for liaising with clients and taking briefs. 
Money may not buy happiness, but it's always nice to have more of it. And that's the beauty of side hustles, they're an extra stream of income that can help you get closer to your financial goals sooner. Just don't forget to do your due diligence on paperwork and tax.
Feeling ready to get started? Find the time for your side hustle and make your week run like clockwork with our tips on how to better plan your work week HERE.