When set up correctly, home offices allow us to work more efficiently and comfortably.
If you're still working from the couch, kitchen bench or dining table, it's time for a change. Making the move to a dedicated home office means no more mysteriously moving paperwork, less neck and backache, saying goodbye to continual setting up and packing up and having the potential for a better work–life balance.
Not sure where to start? Let us guide you through designing your ideal home office. 
How do I find the best spot for a home office setup?
Although everyone works differently, there are a few things that are vital for any modern home office:
Natural lighting and greenery: a study from City University found that a dimly lit space can leave you lacking energy, whereas a well-lit one can make you more efficient. However, make sure you aren't blinded by the sun – those headaches aren't going to help your productivity plans!
It's also a great idea to introduce some greenery into your workspace. Studies have shown that plants can have a number of positive benefits to a work environment, including improving air quality and reducing stress.
Good connectivity: fast internet and solid phone service is non-negotiable, so check your work area's phone reception to make sure those calls are actually making it through! Next, check your internet speed – according to the NBN, you'll need 25Mbps or higher to work from home if you want to avoid that frustrating 'page loading' wait.
It's also a useful idea to select an internet plan with a 4g backup, this way you can keep connected even if your NBN goes down.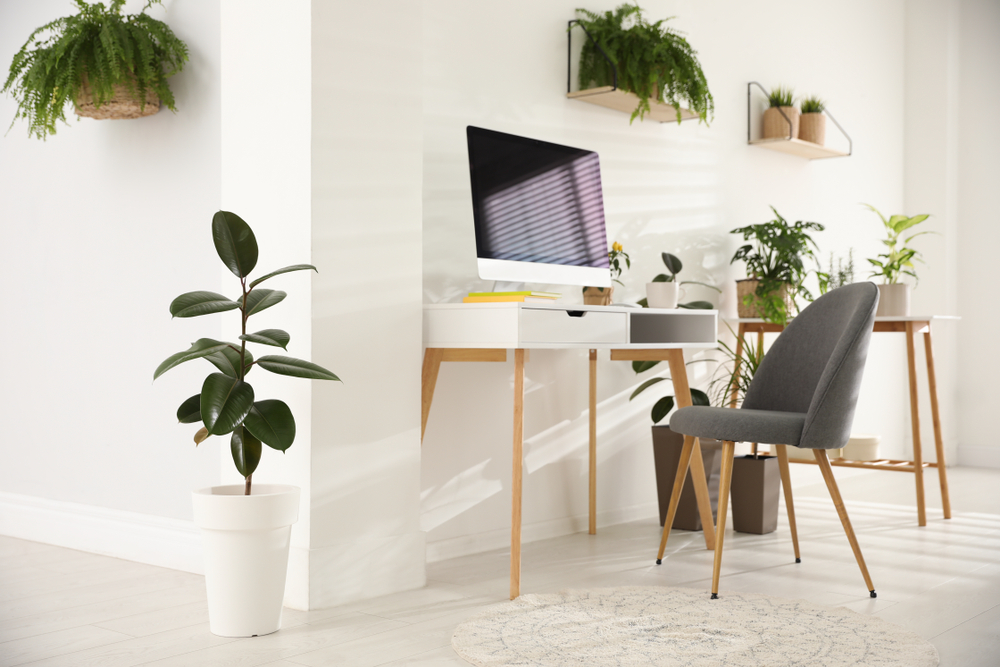 How do I set my home office up for success?
The key to a successful office setup is an ergonomic workspace, which can help you avoid strain on your body.
A comfortable chair: your dining chairs might seem like a convenient option but will fast track you to posture problems for years to come. Instead, look for a chair that's adjustable – including height, backrest, armrests and seat depth – and has built-in lumbar support.
Correct desk height: sort your chair out first, then adjust your desk. An ideal desk height will allow your forearms to rest parallel to the ground and your feet to be flat on the floor. Make sure your elbows sit at a 45-degree angle above the desk too. 
What tech do I need for my home office?
Aside from the expected laptop or computer, phone and good quality router, you may also want to invest in a few extras.
When choosing new tech, make sure it's easy to install, operate and can connect to your existing devices whether you use a Mac or a PC computer, or an Apple or Android phone. Key things to look out for on new tech you're buying includes ports that fit into your device and that they're Bluetooth-enabled, which will make setting up easy.
If you're working from a laptop, a Bluetooth keyboard is a great addition to improve ergonomics and reduce wear and tear on your laptop. A docking station is also a handy tool for remote workers, letting you quickly and easily convert your laptop into a desktop without needing to disconnect and reconnect multiple cables.
It's also important to make sure your new tech meets your individual needs. For example, if you plan on printing a lot, ensure your printer is fast, reliable and has all the technical features you need. The Brother INKvestment range for example will meet all of these needs and more.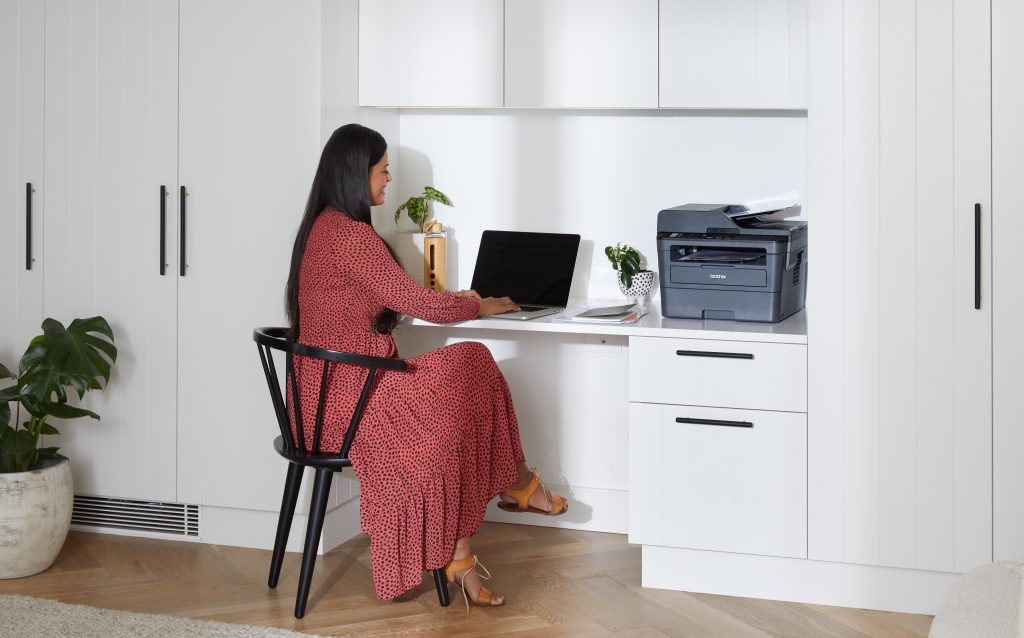 How can my employer help?
There are ways employers can help staff working from home too, says Dorothy McDonald, Senior Manager, People & Corporate Support at Brother International Australia. "At Brother, we make a concerted effort to support employee wellbeing in remote working environments," she says.
"Some ways we've done this include ensuring our teams have the right equipment to be able to work from home effectively via free ergonomic workspace consultations and setting clear expectations around hours so work doesn't leach into after hours. We've also actively engaged in providing digital collaboration workshops to ensure they remain happy, connected and productive while physically apart."
As many organisations continue to introduce hybrid working practices and work-from-home flexibility, ensuring you have a proper working from home set-up is important for both employees and employers to boost productivity and keep staff happy and healthy
For employers looking for advice on coordinating a remote workforce, be sure to check out our article on managing employees working from home.