Optical Character Recognition (OCR), a simple scanning and software solution for turning scanned data into text that can be digitally edited and searched.
This reliable character recognition tool plays a leading role in any kind of office, be it a hospital, school or warehouse. Text detection offers a consistent process for digitising new and existing records, making document capture an incredibly easy process.
A good OCR software will recognise images and text therefore keeping the formatting of the document.
By seamlessly liberating text previously bound to paper documents or a PDF and converting it into searchable, taggable data in the cloud, OCR technology can take the process of digitisation to new levels.
No matter the context, OCR can streamline workflow and easily integrate into any system.
A look at OCR and how can it improve your life
Text recognition is to OCR what reading is to people — a system of processing and storing information. The biggest difference, of course, is that people need to think about it, whereas the OCR software just does it.
An OCR program can indeed bring some of the ease of reading into data entry. In the workplace, OCR has two primary uses:
Archiving information
Repurposing information
For whichever reason you are inputting data, OCR enables you to scan in any number of bits of paper: receipts, invoices, handwritten notes or text documents like older contracts or forms.
After scanning the document you wish to repurpose or archive, OCR software will attempt to decipher the text in the document and turn it into text. Particularly if the text is in an unclear font, handwritten or being pulled from a photo, an individual needs to proofread the scanned document to check OCR accuracy.
Once the document is scanned and proofread, it can be considered searchable, taggable and more easily able to be organised — just like any other digital document on your server.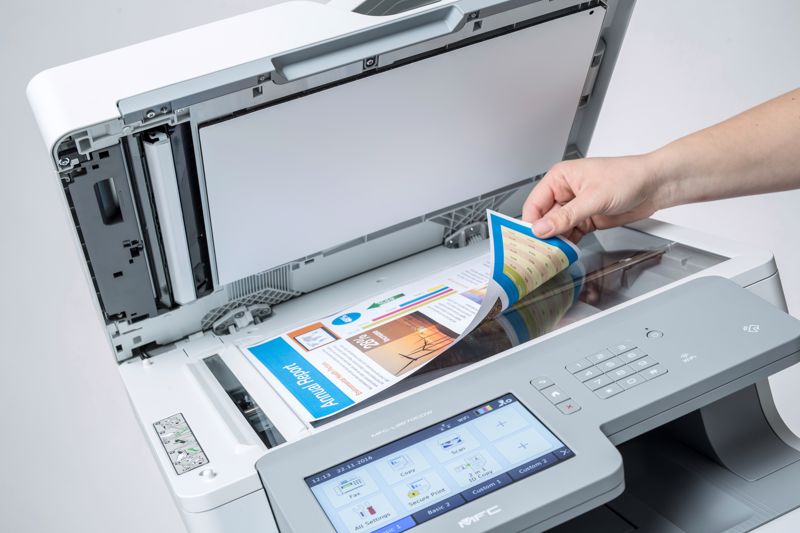 A technical look at OCR
A traditional scanner creates what's called a raster image, which is made up of either coloured or black and white dots. However, this is simply a screenshot, not something a computer can understand, and therefore not something humans can manipulate for data entry and extraction purposes. To achieve this, OCR involves a three-stage process:
Pre–processing: To help ensure an accurate conversion, the software will use several methods to prepare it for processing
Conversion: There are two algorithms OCR software may use to convert images — Feature Extraction and Matrix Matching. While they're very similar, the former is generally used on lower-quality documents
Post–processing: This is a final step aimed at making the conversion as accurate as possible
Many OCR software solutions can now recognise non-Latin alphabets such as Cyrillic and Japanese characters. Some software can also recognise certain handwriting, although human writing is extremely varied and thus difficult to corral into the kinds of datasets needed for machine learning.
But for typewritten documents, all that is needed to get started with OCR technology is a flatbed scanner and access to OCR software.
Digitisation of text and documents with OCR
Digitising older medical records, receipts, invoices and other documents helps large and small organisations alike with more efficient recordkeeping as well as increased data security and a reduction of human errors.
Business services
Security, accuracy and speed are of clear importance to professional services businesses, as is having editable electronic documents. An OCR system enables these benefits. Using OCR, compliance forms, legal documents and HR paperwork can be stored as editable PDFs, meaning they can be updated as contracts progress. What's more, the whole team can find this information by simply typing in a few keywords.
This is a boon for efficiency at insurance companies, law firms, accounting firms and other workplaces. It also bolsters security, limiting stacks of confidential papers from being seen by prying eyes.
Cultural work
With its ability to recognise characters from multiple languages, OCR can be useful for all kinds of cultural and practical situations alike. It can be useful for translation: scan a page of text needed to do business in a foreign country, run it through an OCR API and copy/paste the text into a translator.
OCR can also help digitise books that are out of print, as well as important historical documents. This work is essential to archivists and scholars.
There are myriad ways OCR can help businesses and even learning institutions streamline data entry and extraction processes. If you're interested in how you can apply OCR in your organisation, contact your contact the team at Brother today.