Whether your workplace is big or small, having a quality visitor management system has some significant perks.
Visitor management has always played an important role within the workplace – it's just become easier and more efficient with advances in technology. Monitoring who is coming and going from your workplace not only promotes better safety and security for staff and visitors, but it also provides valuable insights about how to streamline administration procedures and improve compliance across the board.
Tracking each and every entry and exit can feel overwhelming, but it doesn't have to be. By having the right technology at your side to help with check-in processes, half the work is already done for you.
Safety & Security
Visitor management and security go hand-in-hand. Before its other functions, visitor management played the primary role of giving administration staff a good understanding of every entry and exit from the premises at any given time to. With advances in technology, it is now possible for workplaces to have a real-time list of people within the premises, which can be a very useful tool in the event of an evacuation or emergency.
Having this real-time data is now more important than ever as it also assists with contact tracing for COVID-19 cases. Unfortunately, COVID hasn't completely retreated just yet, so it's important to have an accurate record of who attended your workplace and when.
A great place to start is to identify the types of visitors your workplace encounters regularly and ensure that each of these categories are readily available on the check-in monitor. This allows for quick and easy check-ins, and also gives you some insight into who the visitor is likely to have had contact with during their visit. Making the check-in procedure as quick and easy as possible helps to ensure visitors comply with check-in procedures.
Administration
People visit workplaces for a variety of different reasons, and it's beneficial for administrative staff to understand who is entering and exiting the workplace so that they can have adequate staffing allocations to enable a smooth check-in procedure.
Receiving deliveries is a great example of this. By having an accurate record of when deliveries usually arrive from vendors, the administration desk can be adequately staffed to receive deliveries. Any deviations from contractor obligations can also be monitored and acted upon as necessary, such as incomplete deliveries or deliveries not arriving on time.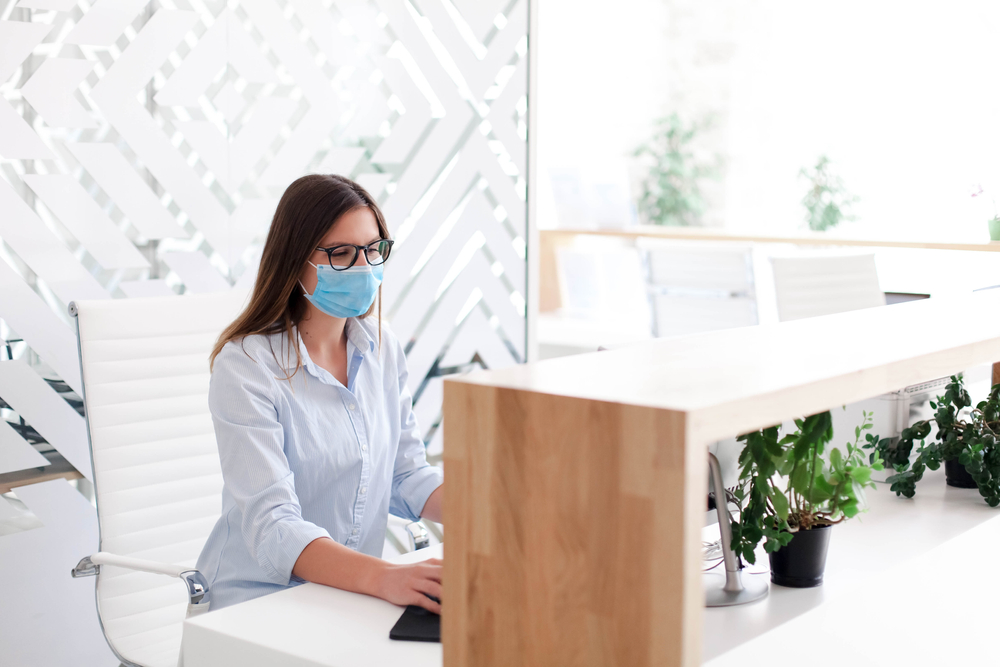 In most workplaces, meetings with external stakeholders are a regular occurrence. Taking down the details of the people arriving for these appointments not only captures their information in case you need it in an emergency situation, but it also allows administration staff to have a record of how many times visitors have appointments with specific teams or staff members. This information also provides administration staff the ability to allocate appropriate meeting spaces, seating and refreshments as necessary.
From time to time, people may also attend job interviews at your workplace. By having each candidate check-in electronically, administration staff will have access to the candidate's arrival time, which may be useful information for interviewers to assess how early they arrived for their interview. Having this check-in procedure also gives HR an insight into how long the average candidate spends on the premises so that they can plan for future interviews.
Compliance
Visitor management can also help decision makers within the organisation develop and enforce policies and procedures in the workplace.
Starting with internal procedures, by having a reliable check-in procedure for staff allows management to see when employees are coming and going from the workplace. This in turn gives an indication of how often employees attend the office and how long they stay for. These findings may also provide information about how and when employees are most productive during their working day. By implementing a simple swipe pass access system, employees' movements can be monitored without capturing irrelevant personal information and the simplicity helps reduce the risk of staff not complying with check-in procedures.
Having a check-in procedure that collects information about deliveries can also be useful for decision makers. For example, knowing how many personal packages arrive for staff during the week and whether valuable administration time is used to manage personal deliveries, policies can be developed to allow personal deliveries as a perk of working at the organisation, or disallowed entirely without prior approval. This information can easily be recorded using visitor management tools by getting delivery personnel to select the staff member's name from a list of employees or searching their name as they make the delivery. This method could also be extended to personal visits, where visitors select the staff member they wish to see from a list.
Overall, having a visitor management system that promotes safety and security, appropriate administration procedures and compliance is a must for your business – no matter how big or small. It plays an important role in keeping your workplace safe, secure and productive, and it's not as tricky to implement as you might think.
For more information on how Brother can help, visit here.