Remote teams and offices are here to stay, so it's time to get to work.
Whether it's a dedicated room at home, a favourite table at your local cafe, your desk at the office, or a combination, your work environment probably looks a little different than it did a year or so ago. It's called a hybrid workplace – part-fixed, part-virtual – and it means employees can work from anywhere.
Hybrid workplaces are here to stay
Before Covid-19, about 20% of us worked from home. But with lockdowns came a rush to shift huge numbers of staff online with minimal disruption. In some industries, as many as 58% of employees worked from home in 2020.
While many Australian workplaces are now open again, it turns out we would prefer to keep our flexible new way of working. In fact, 74% of us see this as the new normal. Now, businesses are moving beyond simply coping with remote workforces to embracing and championing the future of work.
Responding to a crisis comes with challenges, but Brother International Australia's head of marketing, Scott Jackson, says it's also been an opportunity to prove that the hybrid model can work – with great success.
"We've seen our business become stronger as a result of work from anywhere," he says. "It's recognition that everybody works differently and, by providing options, everyone can perform at their best."
Drive inclusion from day one
As CEO and founder of Digivizer, Emma Lo Russo has employees spread across 14 countries. She's something of an expert at managing hybrid teams. "Culture is the most important thing," she says. Building from a foundation of support, trust and empowerment makes it easier to shift to new ways of working.
Digivizer understands how to help its staff. It consults on home office spaces, necessary equipment and getting the right tools. Then, it makes the effort to replicate the workplace culture in virtual spaces, holding Friday night drinks online, creating digital channels for socialising and hosting remote yoga classes.
Lo Russo sees this support reflected in employee satisfaction and output. "We've always been very outcomes focused, making people feel empowered that it really is about getting the work done and delivering their best," she says. "People know when they're trusted."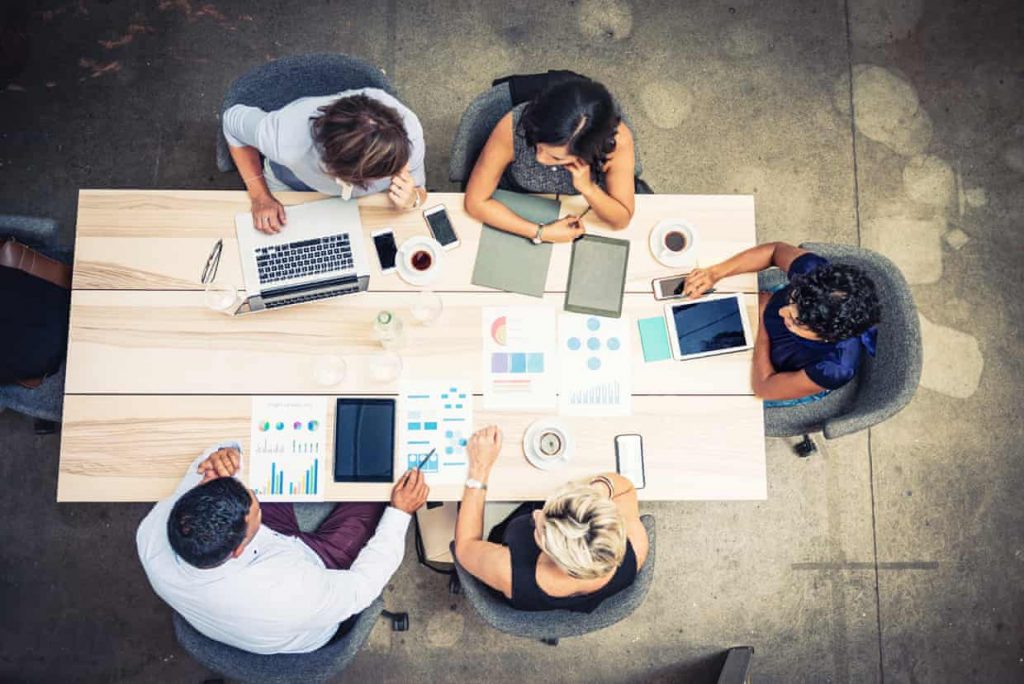 Make the technology work for your team
It's no surprise that communication tech has evolved at light speed during Covid-19. Developers have transformed apps in record time to support this newly mobile workforce, pushing version after version to get us all online.
Lo Russo says we should look at tech as a way to bring the team together. "We want to work seamlessly together in real time, wherever we are, but still satisfy our clients' needs for security," she says. Digivizer works to ensure everyone has the right connectivity, the best collaboration tools and support from technical staff. Managers regularly check in to ensure things are running smoothly and no one's work is compromised.
Jackson agrees that security is paramount. "With this shift towards working from home, the IT departments have lost some control," he says. Printing, scanning and emailing – all usually managed within company infrastructure – became invisible to many businesses.
Brother partners with other brands to create solutions to these issues. Print management tools such as YSoft SafeQ and PaperCut allow companies to centralise printing, even when their teams are working remotely. This increases document security and visibility, allows businesses to analyse output and reduces costs.
Jackson says these sorts of tools can help hybrid workplaces evolve into fully functioning workplaces. Centralised apps can be configured with custom business rules to control privacy, security, processes and outputs. Coupled with communication apps – such as Teams and Zoom – this virtual space is transformed into a secure and productive office in the cloud. It's HQ, made bigger and better.
With so many Australians keen to keep working from anywhere, businesses will grow their hybrid models. Lo Russo says: "Organisations need to be ready in this new world. You can hire from anywhere and you can serve a customer from anywhere. It shouldn't matter where your people are working from to get the best."
New tools will integrate with existing infrastructure to create seamless mobile workplaces. We'll be more productive and more flexible, trusted to deliver from wherever we work best. And the businesses that succeed? They won't just be ready to adapt – they'll be excited.

Find out how Brother can support you in today's business here.
Originally produced content by Guardian Labs Australia to a brief agreed with and paid for by Brother.