My brother and I: Declaring a war on sugar has proved a sweet success for the brothers-in-law behind Nexba drinks
Soft drinks needn't be bad for you, say Drew Bilbe and Troy Douglas, who are taking on the multinationals – and winning – with their Nexba range of natural, sugar-free drinks.
We've all had brainwaves on beaches. Usually they revolve around ordering a pina colada or hiring a jet-ski. But Drew Bilbe's beach epiphany was somewhat more altruistic in nature, and would have far-reaching consequences. While sitting on the Mexican beach Rio Nexba, drinking iced tea, Drew decided to declare war on sugar.
Appalled by how soft drinks (containing sugar or artificial sweeteners) were contributing to rates of diabetes and obesity, especially among children and low socio-economic communities, Drew decided to head back to Australia and create a range of natural, sugar-free drinks.
He arrived in Sydney, and asked his childhood friend and brother-in-law, Troy Douglas, if he was up for an adventure.
"As the saying goes, never go into business with your family," says Drew, who is married to Troy's sister. "I did ponder the possibility that Troy and I wouldn't get on as business partners yet would still need to sit together at the dinner table. However, as we got talking about the idea of Nexba, and shared our vision for sugar-free innovation, we decided to give it a shot."
A natural taste for business
"There was a real gap in the market: soft drinks that weren't laced with sugar and artificials," Drew says.
The brothers-in-law saw two problems with the existing 'health' soft drinks market. Firstly, health drinks didn't have the soft-drink flavours that people loved. Secondly, the industry was dominated by beverage giants that would substitute sugar with artificial sugars, which have been associated with their own health risks.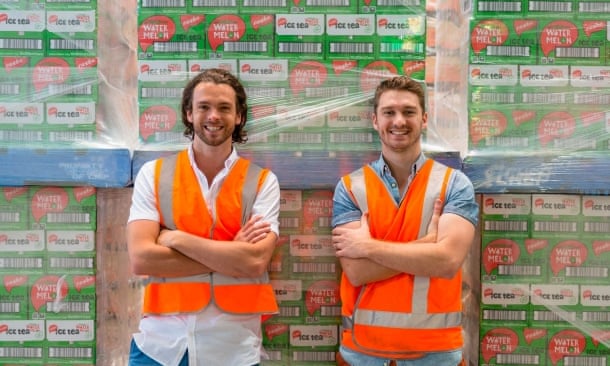 So Drew and Troy set about developing their now patented Naturally Sugar Free blend (containing stevia and other natural sweeteners and flavours) that would offer all the flavour without any of the unhealthy stuff.
They weren't shy to approach people for help, and soon met a couple of key figures: their mentor Pete Baron, the inventor of Sipahh flavoured straws, who went on to become a Nexba shareholder, and the mysterious 'Mr Smith', a semi-retired soft drink 'flavour whisperer' who helped them perfect their blend.
In 2011 the brothers-in-law, with the help of family and friends, put together $500,000 to import a small beverage factory and launch their business.
From selling iced tea out of a van, to selling to school canteen associations, to getting a big break by striking a deal with 7-Eleven, Nexba went from strength to strength. The little factory was sold, and production outsourced (though kept within Australia).
Today, Nexba's range of naturally sugar-free drinks are sold by Australia's supermarket giants, Coles and Woolworths, and – thanks to a deal struck late last year – are on the shelves of UK supermarket Sainsbury's.
Nexba has 18 employees, turned over about $6 million last year (with 156 per cent net revenue growth) and is on track to turn over more than $12 million this financial year.
"I am always blown away whenever I reflect on our Nexba journey and everything that we have achieved," Drew says.
Playing to their strengths
Drew, 32, and Troy, 29, have clearly defined roles. Troy, with a background in law and communications, is global CEO, and overseeing Nexba's global expansion. Drew, an engineer, is national CEO, and leads operations, including manufacturing, warehousing logistics, procurement and development of new products.
"We both get to work in the areas we are passionate about while collaborating equally on all aspects of innovation," Troy says.
Nexba works with High Growth Ventures, the startup program at KPMG, to help find the best solutions for its situation, and makes the most of cloud-based technology including for inventory management and accounting software.
But what it doesn't have access to is multinational advertising budgets. As a result, brand awareness has been one of the business's biggest challenges.
Nexba has stayed ahead of the big guns through constant innovation, having a proprietary natural sweetener blend, being nimble, and listening to its customers, Drew says.
"Communication and relationship building with our customers has been our competitive advantage."
After bootstrapping for its first six years, Nexba got the green light to move on to the next stage of its development when it secured valuable Series A investment from private investors and equity crowdfunding. The ongoing funding round has raised $5.15 million so far, and is expected to reach $6 million when it is finalised early this year.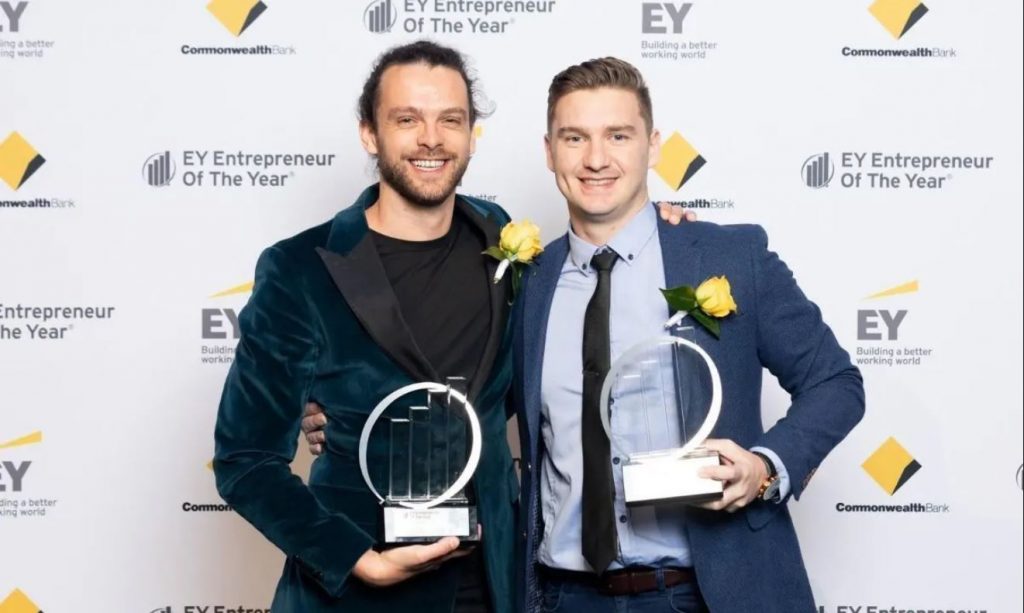 Troy describes the capital raising as transformational.
"The next phase, from startup to scale-up, is the exciting time, as we continue to accelerate growth and find the best way to scale internationally," he says. "All I can say is watch this space."
The ties that bind
It's been an action-packed ride since Drew returned from Rio Nexpa. Highlights have included receiving a Telstra Business Award in 2015, and being named Product of the Year by consumers in 2017. Plus, of course, striking game-changing deals such as the recent agreement with Sainsbury's.
But Troy doesn't want to sugar-coat what has been a sometimes challenging journey.
"It can be tough for the extended family at times, because the last thing we might want after a big day or week at work is to see each other again," he says. "Space to reflect can be a positive thing."
"With transformational or accelerated growth you are going to, personally and professionally, have low points. But having your business partner be your brother-in-law has made any low points surmountable. Our barneys, so to speak, are simply reflections of our commitment to each other and the broader Nexba community. When you are family you have no option but to work out the problems."
Drew says communication has been the key to overcoming any strains that working together has put on their relationship. And he believes the fact that neither brother-in-law had any industry experience at the beginning of their great adventure has been a benefit.
"We've had to constantly adapt and grow together," he says.
"We are incredibly close. I know that at the end of the day we both have each other's unconditional support."
Grow your business with a Brother at your side.
Originally produced content by Guardian Labs Australia to a brief agreed with and paid for by Brother.